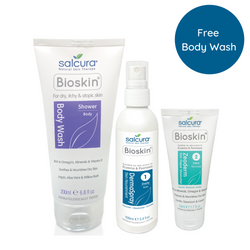 Save 32% with our Bioskin Body Rescue Bundle containing: 
1 x Bioskin DermaSpray Intensive - 100ml (RRP £16.99)
For years now our Bioskin Dermaspray Intensive has been a saviour to anyone with severely dry and itchy skin. The fine liquid of the Spray sinks deep into the skin feeding it all it needs to become stronger and healthier. The Spray application makes the product easy to use as it is non-greasy and it does not need rubbing in. It can also be applied on larger parts of the body or even on more difficult to reach areas, like the itchy scalp.
1 x Bioskin Zeoderm Skin Repair Moisturiser - 50ml (RRP £9.99)
Bioskin Zeoderm Skin Repair Moisturiser is our best-selling deep nourishment cream for anyone with dry to severely dry skin. The powerful ingredients in this cream will allow the skin to regain strength in order to find a healthy balance.

1 x Bioskin Body Wash (RRP £12.99)

Bioskin Body Wash is a natural wash to gently cleanse the dry, itchy and sensitive skin whilst enjoying a shower. Water can further dehydrate the skin, so having a showergel that takes care of the skin whilst taking that shower is very important. Our 'nasties-free' nutrient-rich formulation will leave the skin feeling soft, smooth and nourished.